Our Clients Come First
Vision
Our vision is to develop a successful, sustainable and profitable law firm with multiple offices that specialize in criminal defense issues; including felonies, misdemeanors and traffic offenses, with a reputable team of professionals that dominate the legal community and recognized as an integrity-driven business that helps a wide range of clients with pending criminal issues.
Our mission is to help keep good people out of jail by balancing the criminal justice playing field so that each of our clients has a fighting chance to achieve realistic outcomes for their individual legal situations. We aim to do so by educating our clients about the options they face, while vigorously advocating for them throughout the legal process.
     Integrity
We will always be honest and forthright with our clients, regarding our representation and their expectations.
     Accountability
We will always endeavor to do what we say we are going to do, when we say we are going to do it.
     Transparency
We will always endeavor to be straightforward and timely in our communications with our clients so they stay up to date and informed of the status of their case.
     Authenticity
We will always err on the side of the truth and never provide unrealistic expectations to our clients by overstating our abilities achieve their desired results.
     Empathy
We will always treat the needs of our clients as with the utmost respect and value, by empathizing with their legal situation and providing them with the care and compassion they need at one of the most challenging times in their life.
Arizona Criminal Defense Lawyer
Zachary J. Divelbiss, Esq.

Professional Experience
Future First Criminal Law – Founder/Owner/Lawyer
Divelbiss Criminal Law – Founder/Owner/Lawyer
Ryley, Carlock & Applewhite – Lawyer
Maricopa County Public Defender's Office – Clerk/Extern
Lorona Mead, PLC – Intern
Cavanagh Law Firm – Extern
Harla Davison Law Firm – Extern
Bar and Court Admissions
Professional Education
Arizona Summit Law School
J.D. (2016) | Legal Studies 2014-2016
Honors: Donald E. Lively Mission Pillar Award
Cum Laude | Castro and Merit Scholarship
Dean's Award 2014-2016 Top 10%
Graduation Activities: Law Review & Moot Court
Arizona State University
B.S. (2014) | Justice Studies 2010-2014
Honors: Cum Laude | Provost Scholarship
Professional Affiliations
Maricopa County Bar Association – Member
Professionalism Advisory Council – MCBA
Criminal Law Section – MCBA
Young Lawyer Division – MCBA
Solo and Small Firm Division – MCBA
Awards & Recognition
Graduated Early With Cum Laude Honors From Arizona Summit Law School
Honorary Recipient of the Donald E. Lively Mission Pillar Award
Solely Practices Criminal & DUI Defense
Focuses on DUI & Criminal Defense Representation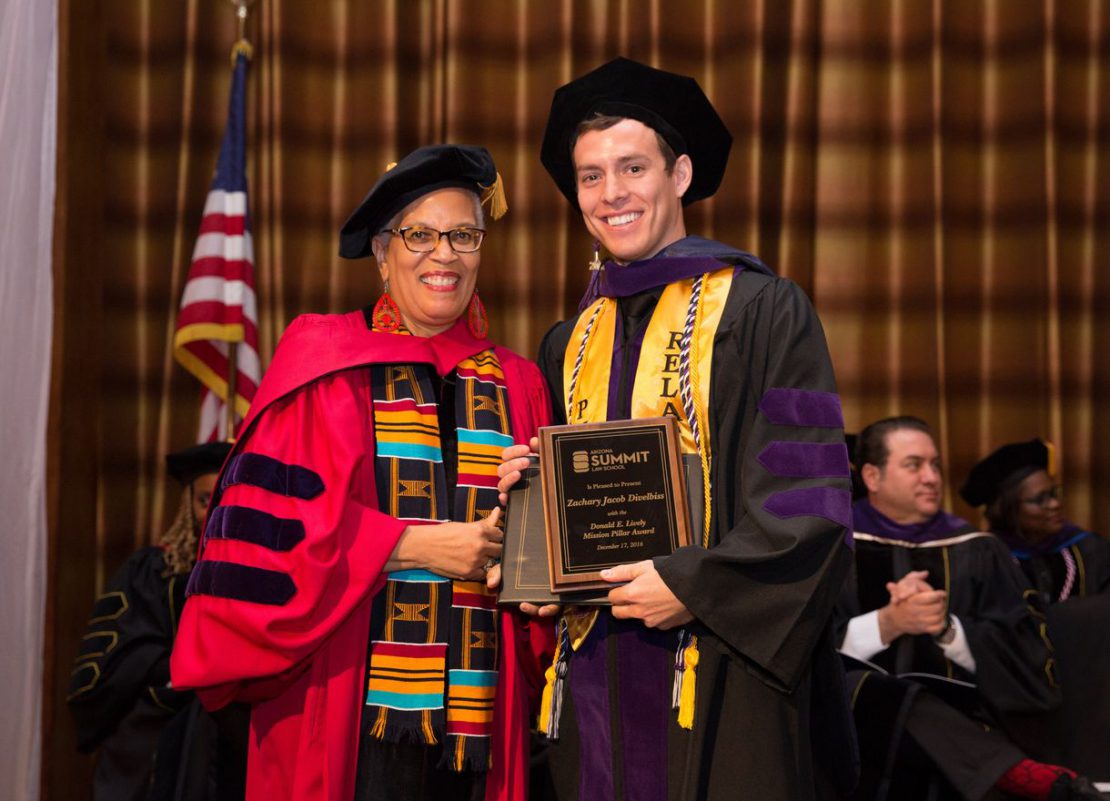 How our firm decided on criminal defense?
Zachary Divelbiss was born and raised in Apache Junction, Arizona. Growing up in Apache Junction provided him a unique perspective on life and helped him recognize the ever-growing notion of stereotypes that cause people to judge others based on unfounded-predetermined bias.
Zachary attended ASU on a full-ride scholarship and majored in Justice Studies to better understand the inequality that divides humans. The teachings at ASU helped him understand where prejudice comes from and why people fear those who are different than themselves. It also taught him that individuals and groups are systematically discriminated against based on financial poverty, race, ethnicity, gender and other minority attributes.
Zachary's goal after attending ASU was to help as many people as he could for those who need more assistance than others. Zachary accepted the challenge of a private law school, Arizona Summit Law School, to utilize the law as a tool for those who require representation. Zachary accelerated his law school education and graduated in two years at the top of his class with Cum Laude Honors. Future First Criminal Law is a criminal defense law firm that educates and advocates for those who are accused of felony and misdemeanor crimes in Arizona to help alleviate the burden of criminal convictions on fellow citizens of the United States of America.
What distinguishes our law firm from others?
At Future First Criminal Law, we have experience on both sides of the courtroom as both a defendant and lawyer. In Zachary's youth, he received many criminal charges and even spent time in jail. He took that experience and focused everything toward helping others in similar situations – he went to law school and continues to help those accused of criminal offenses. Zachary cares about every person accused of a crime because he has been there before and understands the stress/confusion everyone faces when they go to court.
What experience or education distinguishes our lawyers from others?
Zachary Divelbiss graduated from a private law school at the top of his class (honors) in two years instead of three years. He was the youngest person in his graduating class; while also receiving distinguished honors by accepting the Donald E. Lively Mission Pillar Award – this is awarded to one person and must be voted on by teachers and faculty at the law school.
Zachary accepted a position with the Maricopa County Public Defender's Office while still in law school and received specialized training in criminal defense provided by a government firm. After gaining this knowledge and experience, Zachary started his own law firm and continues to help as many people as possible.